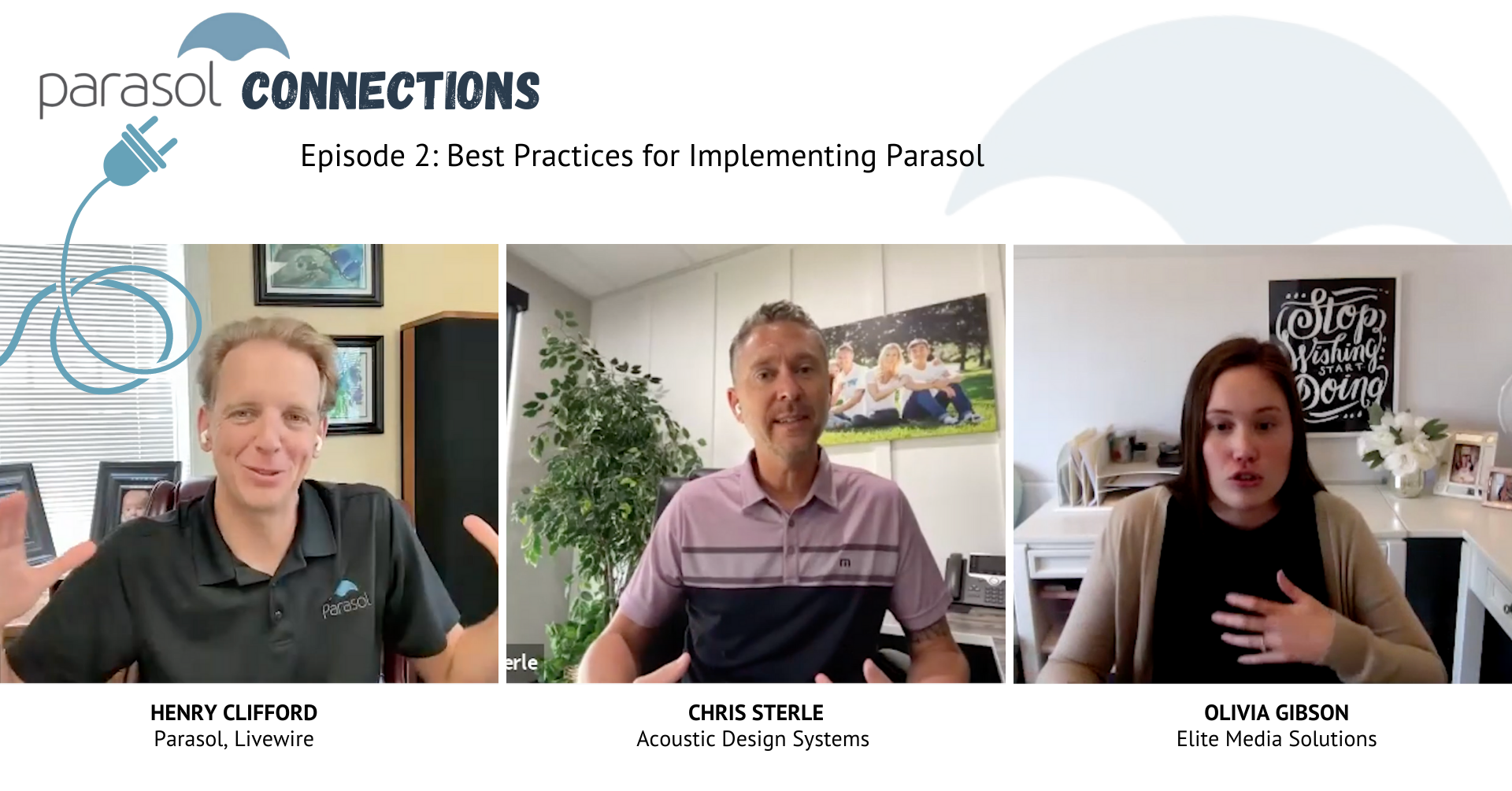 We've got more great tips from our Parasol Connections episode on best practices for implementing Parasol in your company. Our guests had so much wisdom to share we had to write a 2 Part blog post! Here is some more advice from Chris Sterle (Acoustic Design Systems), Olivia Gibson (Elite Media Solutions), and Henry Clifford (Livewire / Parasol).
Tips for rolling out/selling to clients
Once your internal plan is in place, rolling it out to customers is a whole other animal. Ultimately, we heard from guests that it's all about communicating value and setting expectations. 
Olivia recommends having a description and layout the plan for the customer upfront so they know exactly what they're getting. She explains that they are still a partner, this service is just an extra piece to help you on a Saturday night when something goes wrong. 
Chris urged dealers to set expectations and explain that this is for their benefit as you are entering into a partnership, not a one and done situation.
"This is just going to be another avenue to eliminate pain points with the customer. Yes, we put together the best systems and use the best equipment and set everything up correctly but they are still electronics that have communication issues from time to time. We are a lifetime partner with you. This just helps with those pain points. Parasol does a really good job of giving you enough information that even if you do have to make a truck roll, it speeds it up tremendously because you already know what's wrong. It reduces truck rolls and speeds them up at the same time." 
Another great point all dealers stressed was to bake it into every proposal. 
"It's part of every conversation we have. It's just part of the service that we offer. It's built into the system. Just like you would include an equipment rack with a system. It's just part of who we are," says Chris.
Henry shared a great analogy for this. "The project is just the beginning. The aftercare is the relationship. We put in a garden for you that needs weeding and care. In the industry we've had a hard time reconciling that. The HVAC industry doesn't. IT guys have no issues with it. It's cool to see our industry shifting a little bit with that mindset," he says.
Conversations with existing clients
Baking it into proposals and including it in the first few months is easy. Getting existing clients onboard is another story. It's all about how you approach it! Here's what our guests had to say.
"The biggest selling point for existing clients for us is, this is how much it costs for Parasol (which we sell quarterly). That cost is the same as a service call. Just pointing it out helps. Saying, yeah, we can come out this one time, but if you need us in another month, it's going to be another cost. Versus having somebody that's monitoring your system 24/7," explains Olivia.
Chris says, "When people call or write on a weekend and say they need some support I say, 'No problem! Do you have our 24/7/365 service plan? If not, we'll talk to you on Monday morning.' That has sparked interest in past customers."
Henry adds that Parasol has an email template that has already been tested and shown to be effective for selling Parasol to existing customers. It announces the partnership and has a link to subscribe. "That email, within the first 5 minutes, had 30 or 40 subscriptions. Pretty amazing." 
Chris reiterates that the service is a line item on every proposal. "It's part of every conversation leading up and until the final sale. If someone says well I don't want that, that is a time where we might turn down a customer because we see the benefit for us and we don't need those calls on the weekend. We don't need those telephone tough guys texting us saying, hey I just need your help today it's the Superbowl. This solves those problems for us."
How to bill for Parasol 
Many of our dealers include a couple of months to a year of Parasol in the proposal (as a line item, not for free). But what happens when that runs out? For Chris, the first year for every customer is included at full price. Before that year is up, their service department contacts customers to let them know the warranty on their equipment is coming up. They offer to come out and do a tune-up of the system. Dust, clean, recalibrate the audio, etc. The salespeople either go on that call or call the customer to let them know that the one year support that was included is almost up and that they need to set them up on their monthly, quarterly, or annual billing. "They've [the customer] seen the success of this over the last year. We've had a 100% conversion rate recontacting the customer and moving them into a RMR based subscription versus that included front year out the gate."
At Elite, they front load it for the first quarter and then they bill it quarterly from there. "We talk about it with the client up front, when they pay for their initial job the first quarter is covered and then once Parasol goes live for the client and we're introducing how to call the number, where's the chat, how can they help you, etc. At that point when I talk to the client I say 'Hey this is something that bills quarterly, which credit card would you like to put it on?' and then it auto-bills quarterly from there on out."
How do you handle the nos?  
Getting the no or the why do I have to pay for this can be nerve racking. It's really all about how you approach support and the culture you create in your company. Chris' approach to that is spot on. 
"We're not available from 4:01pm til 6:59 in the morning. We're not available on the weekends. The time that the customer is going to be at the house when they're home from work, they're sitting down with their family, sitting down at dinner, turning on music, watching a movie… on the weekends watching sports, watching a golf tournament… we're not available to you. We're available all the rest of the time and that's the support we're going to provide you during the warranty period. This is over and above what we're currently doing and giving you access to somebody when you're having problems when we're closed."
Olivia adds, "Your one year warranty is 9-5 Monday through Friday but life goes on the rest of the time so that's why we're offering the 24/7 support."
They also both only sell the higher plan. Chris shared something interesting he's found with his customers, "everyone wants that phone number to call 24/7. They are used to having someone available all the time and they love it. They don't want to lose it."
Henry adds that his customers want proactive monitoring to know someone is watching all of the time. 
Tired of the Texting VIP?
We'll leave you with this last comment from Henry – an experience that really sold the deal on switching completely over to Parasol.
"The biggest pain I found was, as owner/operator we keep our own book of business. And over the years we collect people. As text messaging has evolved our customers have appeared to get really good at that – more than any other group of people I have encountered, actually. I'd say the pain of the texting VIP was my biggest personal pain of transitioning away. The "could you justs" over and over. The last person I had on my journey to completely migrating over to Parasol was a guy who texted me on Christmas Eve. He knew – and I reminded him probably three or four times of the contact information. Finally I just ghosted him on Christmas Eve. Intentionally. Five minutes later I see a ticket pop across with Parasol. Mission accomplished." 
There you have it! Tons of great tips and strategies for implementing the Parasol system.   
You can watch the full episode, with way more insights and tips than this blog post, on our YouTube Channel here.