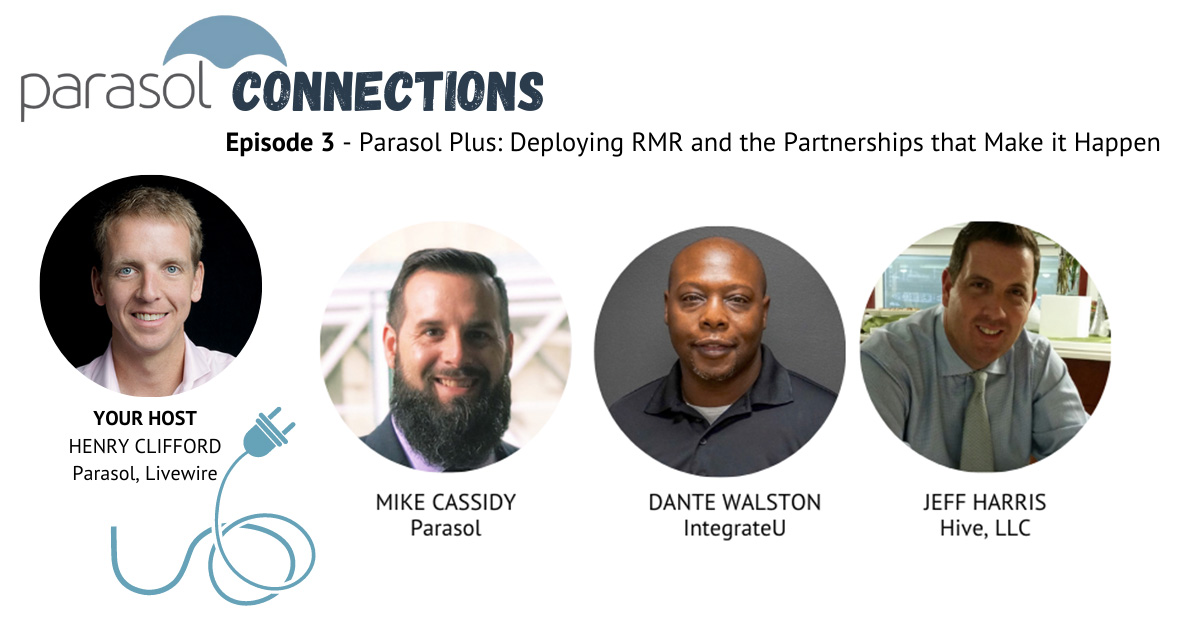 Did you miss our latest Parasol Connections Episode? We brought together our Parasol+ partners to share their insights on deploying RMR through our "Do It For Me" options.  
Parasol's East Coast Account Manager, Mike Cassidy, along with Dante Walston with IntegrateU, and Henry Clifford on behalf of our partner Zenetta, discussed what each service can bring to a dealer who is looking for help around the entire process. We also had Jeff Harris, with Hive LLC discuss what Parasol+ has meant for them as integratedokthey are currently going through the process.
For those who don't know, Parasol+ was created to solve some of the biggest pain points in the industry for deploying RMR. We took a look at our most successful dealers, uncovered a few key themes, and then partnered with the best service providers in the industry to create the Parasol "Do It For Me" offering. 
Three Key Best Practices
1. Set up service plans that are well defined, priced effectively for your market, and easy to understand.
2. Build a subscription platform that allows customers to subscribe online automatically.
3. Require a commitment. Have a "pick a plan" mentality where every client becomes a member at any tier – even if it's a zero dollar tier. It's all about setting expectations in terms of support offerings. 
IntegrateU: Operationalizing your business 
Starting a new initiative is exciting but doesn't always stay at the forefront because other tasks get in the way. IntegrateU helps companies with the Parasol implementation process. This means onsite and virtual visits, weekly and monthly check-ins, and training your team to sell the Parasol service. Check out the plans here. 
Zenatta: Make your RMR service sustainable 
Stop running things off a spreadsheet and creating invoices manually. Zenatta helps with your RMR billing, automated campaigns, CRM, and other back office set-up. Learn more here.
Bringing it all together: A testimonial from Jeff Harris
We were so happy to have Jeff Harris, CEO of Hive LLC to share his experience.
"We're currently starting the implementation process for Parasol+ and I truly believe it's going to revolutionize our business. I can't thank the team that's on this call enough. It's what's making it possible for Hive to be able to integrate this." – Jeff Harris
Get all the tips and information shared on this episode of Parasol Connections by watching on Parasol's YouTube channel! Learn more about Parasol+ here. Until next time!